At Fremont Eye Centre, we offer different options to slow down the progression of your child's nearsightedness. These include orthokeratology (ortho-k), MyoCare by Zeiss, Miyosmart by Hoya, MiSight contact lens by Cooper Vision, Abiliti contact lens by Johnson & Johnson and low-dose atropine therapy.
What is nearsightedness (or myopia)?
Nearsightedness is the most common refractive error of the eyes making distance vision blurry. It is common in children especially when they are growing. When the eyeballs become longer, it creates a mismatch between the refractive power of the eye and the length of the eyeball.
Why do we need nearsightedness control?
For children who would develop high levels of nearsightedness, slowing down the progression could mean a lower prescription giving clearer vision, thinner glasses lenses and more options with contact lens wear. In addition to lower prescription, it also yields a lower incidence of retinal detachment, myopic macular degeneration, cataracts and glaucoma, all of which are associated with high level of nearsightedness.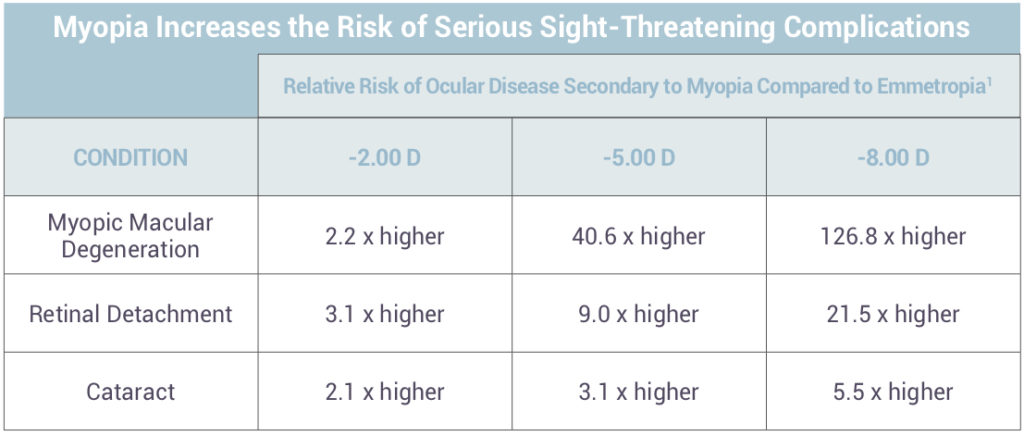 Orthokeratology (Ortho-k)
Orthokeratology, also known as corneal reshaping therapy, is a specialty contact lens fitting using a gas permeable contact lenses worn overnight to change the corneal curvature, thus modifying the cornea's refractive power. Combining its unique advantage of providing clear unaided vision during daytime, orthokeratology induces an effective peripheral power profile that control eye growth and hence controlling nearsightedness. Orthokeratology has become one of the most popular and effective choices among children for nearsightedness control.
Liu YM, Xie P. The Safety of Orthokeratology—A Systematic Review. Eye & contact lens. 2016;42(1):35–42.
Miyosmart by Hoya
MiyoSmart is an innovative spectacle lens for myopia control developed by Hoya together with its research collaborator. Based on a two-year clinical trial results, MiyoSmart is proven to curb myopia progression in children in average by 60% with its award-winning D.I.M.S. (Defocus Incorporated Multiple Segments) technology. Worn like a pair of regular glasses, MiyoSmart is a safe non-invasive way to control nearsightedness.
Defocus Incorporated Multiple Segments (DIMS) spectacle lenses slow myopia progression: a 2-year randomised clinical trial Carly Siu Yin Lam ,1 Wing Chun Tang, 1 Dennis Yan- yin Tse ,1 Roger Pak Kin Lee,1 Rachel Ka Man Chun,1 Keigo Hasegawa,2 Hua Qi,2 Takashi Hatanaka, 2 Chi Ho To1 To cite: Lam CSY, Tang WC, Tse DY, et al. Br J Ophthalmol 2020;104:363–368.
Soft Multifocal and Dual Focus Contact Lenses
 
Abiliti and MiSight are soft daily disposable contact lenses worn during daytime. Not only does they optically correct existing myopia, giving clear distance and near vision, but they have also been proven to slow the progression of myopia in most children. This is a nice option for children who have are more active. Although children wearing these contact lenses would have good vision, we still recommend a pair of glasses to be worn when the contact lenses are removed.
Low-dose Atropine Therapy
Low dose 0.01% to 0.05% atropine has been shown to significantly slow the progression of nearsightedness without increasing pupil size or decreasing near vision dramatically. Since these prescription drops are instilled prior to bedtime, only a very small percentage of children complained of problems with low dose atropine. Glasses and sunglasses can reduce symptoms if your child notices poor reading vision or lights seem too bright. As a pharmacological agent, there is also a risk of an allergic reaction at the front of the eye. Contraindications to use would include children with a history of heart and lung disease. Understand that vision correction, in the form of eyeglasses, contact lens or orthokeratology, is required to see clearly during the day.
Involves the use of a prescription eye drop every night
Risk of allergic reaction at the front of the eye
Possible light sensitivity and poor near vision in the morning
Can be combined all other methods of myopia management
Talk to us about nearsightedness control today!